Hello friends! I know I have not been blogging much, but here is why: I am so so happy to report that the nursery is officially FINISHED! Now I can just concentrate on being a mommy and a maid to this room. :)
Here is a before picture of when it was Hubs' office space:
It was then
slowly
transformed into a nursery. First some paint, then some furniture changes that still didn't work, and then some more furniture changes.
Here is the initial design board:
And here is the final product- a little different, but not too much!
I decided against painting the crib gold, although I still love the idea. I just didn't want to have to change it again later on if baby #2 is a boy, or if I no longer like gold.
The bedding was originally from Etsy but we completely re-did it once it came in.
The original dresser was a bit large for the space so we replaced it with a smaller white washed piece. This also allowed us to rearrange the room to make a more aesthetically pleasing arrangement and add some room for a glider.
I found an old cheap mirror in a closet of our house and liked the round shape for above the dresser since most of the pieces in the room are "boxy." A little TLC & some paint, and voila!
The glider was a mega steal and is my favorite part of the room, in addition to the inital Etsy prints framed on the wall.
I needed a bit more gold in the room to tie in with the refinished mirror, so I purchased the
Sofia Accent Table
from World Market and will incorporate gold into the mobile once I finally get one ordered.
The lucite bookshelves may be one of my favorite parts of the room. I love that they do not take away from the books themselves, or the minimal amount of space we had for them all.
I am still in search for the perfect rug. I know I want a round rug, and I am slightly obsessed with the
Whorled Trapunto rug from Anthropologi
e
, but I despise the price. So until I find something similar but in my budget, we will be rug-less.
Anyone know of something similar, and cheaper?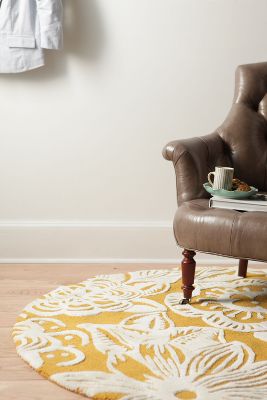 So, that is it, folks! The nursery is officially baby-ready. And it sure should be, considering we leave for the hospital tomorrow evening! Baby should be here sometime on Tuesday. Keep us in your prayers and I will be back to blogging at some point when I get the hang of this mothering thing. ;)
Until then!